FREE P&P OFFER!
ENDS MIDNIGHT 12/10/18
NEXT DAY DELIVERY IF YOU ORDER BEFORE 2.30PM (MON-FRI)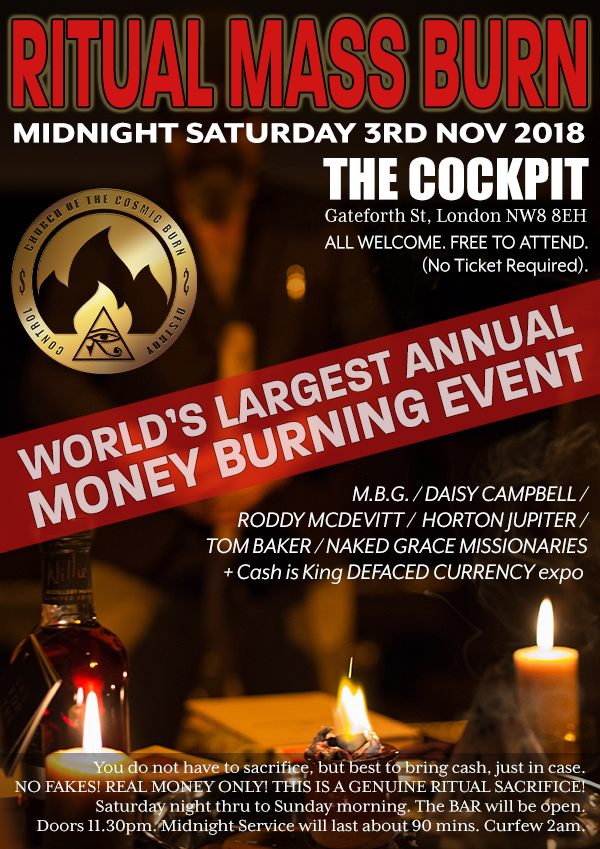 On money burning.
Jo Tinsley, David Bramwell in THE MYSTERIUM (2017)
"The post-KLF money-burning movement views the action as a modern-day sacrifice and hence a highly spiritual act. Sacrifice occurs in all cultures and is an act deeply wired into our pre-rational minds. Traditionally it requires a victim, such as a goat, but people burning their own money are both the sacrificer and the victim. This makes it a markedly more potent form of sacrifice and one more ethically defendable...
...Money burning, its modern devotees insist, should not be thought of as an act to produce an intended benefit. It is not an exchange of money for knowledge or an experience of the Divine. It should be an act of selfless giving, and equally, an act of forgiving. "
C.J. Stone KINDRED SPIRIT MAGAZINE (Issue 152 - Summer 2017)
Republished by International Times
[Money Burning]
involves sacrificing something very dear to you, the hidden element of desire that the money represents. It is a sacrifice without a victim. The victim is yourself. You are both priest and offering, sacrificer and sacrificed, giving and taking at the same time.
So that's new, isn't it? New and yet incredibly ancient. Sacrificial ritual, the oldest religion on the planet, with a brand new sacrifice to offer.
Brenton Clutterbuck UNITED WE FNORD More Discordian Stories from the U.K. and Ireland (2018)
This idea of the spiritual/religious aspect pervades much of Harris's writing. This relates to a series of ideas, in part connecting to a theory of the origins of money that holds currency (ahem) with a number of theorists; that religious offerings and devotions, not barter, provided the foundations of money.
Harris placed down a piece of alfoil (not a drug thing, he assures us) and lights a small candle.
There is already a strange mood over the room, a conscious sense that a taboo is being vi
olated. More than a sense, a deep atmosphere
. People are already unsettled, calling out, making comments. 'Time is money' one person yells. 'No it's not,' a woman says.